Condolences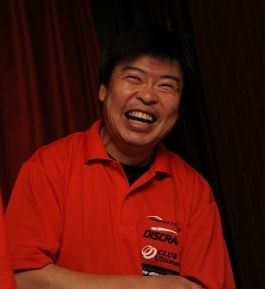 Dear friends,
I would like to inform you that Mr. Endo Hiroyuki, who was a maneger of CLUB Jr. Inc., passed away from subarachnoid bleeding in the evening on June 11th.
On June 10th, during a local Ultimate tournament in Japan, he suddenly collapsed and was taken by ambulance to the hospital.
Then, he could make 5 hours emergency surgery, but, unfortunately he passed on peacefully surrounded by his family and CLUB Jr. members next day.
It was so sudden that we are full of sorrow now, but, we have tournaments coming up along with regular business.
We are responsible for tournaments and events that he had run for years.
The rest of CLUB Jr. members will take over his role promptly.
We belive it would help his soul to be reposed.
We will do our best for him.
Personally, I know him since he was in a college, then, he started working for CLUB Jr. when he was 26 years old.
I have had a very close relationship like a family for a long time.
It's really devastating....
I would like to express my heartfelt gratitude to everyone for supporting Mr. Endo.
He always had a great smile with double peace signs at the camera.
Please say bye with your smile to him.
Thank you Mr. Endo!
Sincerely,
Akihiko Yoshida
President
CLUB Jr. Inc